Agritechnica - the world's largest trade fair for agricultural innovations has long been a hub for agricultural innovation. This year, Hannover saw something new brewing. RootCamp orchestrated the Lunchtime Startup Pitch Session. Each day, pioneering startups from the agricultural sector took the stage to pitch their disruptive ideas. A total of 46 AgTech startups hailing from 14 countries showcased their innovative solutions. Explore the lineup of these startups below.
Machines & Robotics: Empowering AgTech
The week commenced with a compelling display of strength - quite literally. Startups exhibiting advancements in agricultural machinery and robotics envisioned a future that empowers farmers. We were given a glimpse into a world where efficiency and automation cease to be mere buzzwords, becoming tangible realities within the farmyard.
AgTech Software: Efficiency meets simplicity
Throughout the week, seven startups stepped into the spotlight, showcasing how software solutions in agriculture transcend mere data by emphasizing its practical application for farmers. Simplification emerged as the central theme, with a pledge of efficiency, as these tech innovators unveiled the "easy button" for agricultural management.
RootCamp ecosystem: Get to know our startups
Tuesday witnessed the vibrancy of nine startups from the RootCamp ecosystem, providing a glimpse into the future of agricultural technology. Notably, all were alumni startups from our previous batches in Germany, yet that wasn't all. Adding to the excitement, three startups from our forthcoming Batch #5 offered a sneak preview of their incredible solutions on the stage of the premier agricultural fair.
Cross-sectoral: AgTech from 3D printing to waste recycling
Midweek exposed us to a mosaic of agri-tech innovation. We witnessed the convergence of 3D printing, waste recycling, and various other facets within the agricultural industry. The underlying message was unmistakable: innovation recognizes no boundaries.
Sensors & Novel Production Systems
Thursday was divided into two distinct themes: sensors engineered to perceive and interact with the agricultural world in groundbreaking ways, and novel production systems that employ out-of-the-box approaches to cultivate agricultural products.
Geospatial Monitoring & Precision Agriculture
The final day spotlighted precision in agriculture. Featuring eight pitches centered on geospatial monitoring and precision agriculture, the startup session culminated with a compelling vision for a future maximizing every inch of farmland, and elevating yields to their fullest potential.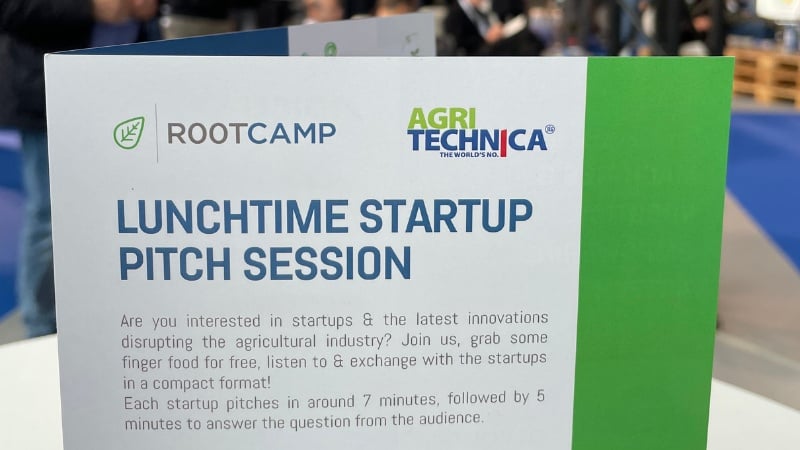 RootCamp orchestrated its largest pitch event to date, featuring 46 startups in an immersive environment. Each day unfolded as a variety of innovation and networking, offering invaluable insights and connections. It's our pleasure to provide startups with a global stage to shine at one of the world's most significant AgTech fairs. Are you interested in their pitch decks? Check out our landing page that navigates you easily to the presentations.
What's next?
Getting some rest! Just joking - but the Agritechnica, happening in RootCamp's home city, was super intensive with plenty of startup pitches, panel discussions & other networking events - everything around the AgTech startup ecosystem. RootCamp's Batch#5 is just ahead. Follow us on LinkedIn, so you don't miss the new startups participating in our next acceleration program beginning on the 4th of December!