Regularly, we want to present to you the startups that are part of the RootCamp accelerator startup program. In the interview series, we introduce you to the founders, their innovative technology, and how RootCamp has taken the startup to the next level. The benefits of regenerative agriculture are becoming increasingly clear, with its potential to provide economic, environmental, and social advantages. A recent study by the Boston Consulting Group has estimated that shifting to regenerative agriculture in Germany could result in a total economic value of approximately €8.5 billion per year, primarily due to the reduction of greenhouse gas emissions, improved soil capacity, and enhanced water quality. Seqana, a startup specializing in satellite imagery, is playing a crucial role in supporting multiple regenerative projects in Germany and beyond.
Read below the interview with Jakob Levin, co-founder of Seqana.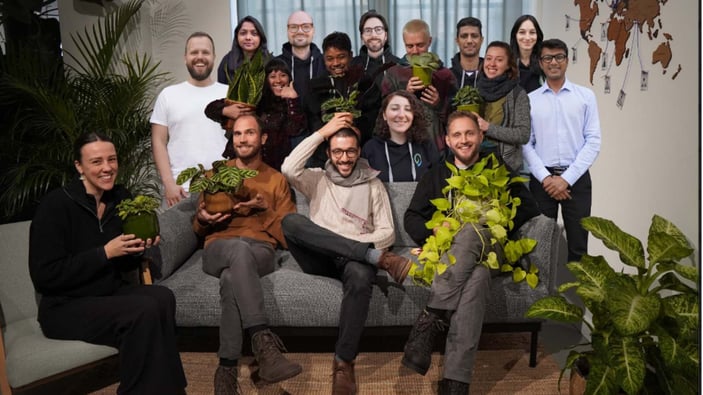 Seqana was part of RootCamp Batch#3. Photo: Seqana Team
Describe what your startup does.
Our goal is to unlock soil carbon for nature-based solutions, such as insetting and offsetting projects, by creating a revolutionary Monitoring, Reporting, and Verification (MRV) system that is satellite-based and currently unavailable in the market. MRV is a critical part of natural climate solutions (NCS), and often the most costly.
Our innovative MRV system uses satellite imagery to dramatically reduce the cost of soil sampling. In addition, leverage satellite imagery to complete the soil organic carbon (SOC) analysis process 60 times faster than current solutions. By providing accurate and reliable data on soil carbon, we can make nature-based solutions more accessible and cost-effective for businesses and governments seeking to reduce their carbon footprint. Our solution is not only environmentally sustainable, but also economically viable, making it an attractive option for anyone looking to invest in climate action.
How does your technology bring positive change to agriculture?
Soil carbon is not the most exciting aspect of agriculture. It is just one parameter. But it is a convenient proxy for indicating soil health, water retention, resilience to drought, and heavy rain porosity. Effective mitigation of climate change requires the adoption of clean energy and the removal of atmospheric carbon. One promising strategy for increasing carbon sinks and reducing emissions is the cultivation of soil carbon due to its benefits for agriculture. However, the practical application of soil carbon climate strategies lags behind their potential due to the lack of clarity around the magnitude of the opportunity and how to best capitalize on it. To overcome this hurdle, it is crucial to explore innovative approaches and strategies that prioritize the development and implementation of soil carbon climate solutions. By doing so, we can unlock the full potential of soil carbon as a climate mitigation tool and pave the way for a more sustainable future.
At Seqana we empower climate positive land use managers to conduct analyses of soil organic carbon (SOC) with ease and efficiency. One way that we help is by measuring, we can make carbon financing more accessible to projects which benefit the transition of agriculture. We can also encourage supply chain resilience by making harvest more predictable because the soil is healthier.
Tell us why Nature Climate Solutions (NSCs) are the future for climate action?
Natural climate solutions refer to a set of conservation, restoration, and land management measures aimed at increasing carbon storage or reducing greenhouse gas emissions. These solutions, when combined with clean energy innovations and other strategies to decarbonize global economies, represent some of the most effective options available for combating climate change.
NSCs are becoming increasingly important in the fight against climate change because they offer numerous advantages over traditional approaches. Firstly, NSCs are typically more cost-effective than many other climate mitigation strategies. Our solution for example costs 10 times less than current alternatives. At the same time, NCS brings environmental, social and economic benefits and can thus contribute to strengthening resilience.
At Seqana, we have developed a state-of-the-art technology that not only accelerates the MRV process but comes at a lower price tag. We are convinced that this technology can spur permitting of NCS projects to keep up with the growing demand for carbon removal.
Why did you decide to apply for RootCamp?
One of the key benefits of the RootCamp accelerator program is the direct line to some of the biggest agricultural players like K+S and the unique chance to conduct pilot projects. This is crucial for startups like us. Working with established companies through pilot projects provide startups with valuable insights into how larger companies operate, what they look for in potential partners or suppliers, and how they make decisions. This information helps us to better understand the needs and preferences of the target customers.
How did RootCamp help you with your business?
As a RootCamp startup alumni, we highly recommend joining the RootCamp accelerator program for any aspiring entrepreneur looking to accelerate their growth and take their startup to the next level. We are incredibly thankful for the strong connections and pleased to have the great opportunity to implement pilot projects with the RootCamp partners, KWS and KS. Overall the program was a great package of networking, mentorship, personal coaching and incentives, all of which helped us optimize our product and processes and reach milestones faster.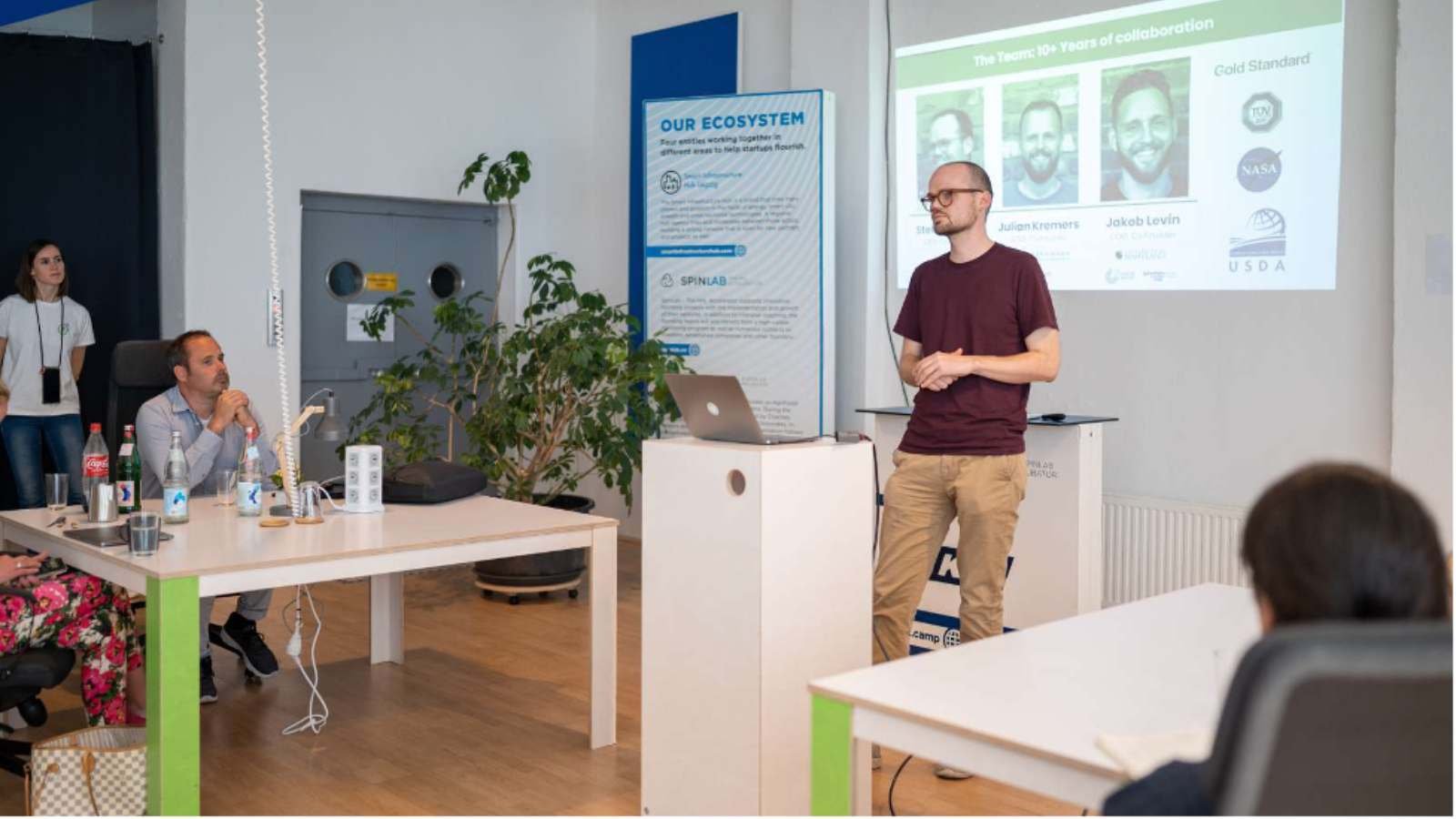 Stefan Gönner (Founder of Seqana) Pitching at RootCamp
What are your plans for the near future?
We are planning to raise a seed investment. The next financing round will be this year, which we are preparing for at the moment. Furthermore, we are deploying projects in more than 10 countries, and signed an open letter to the EU Commission calling for an ambitious and progressive soil health law. Healthy soils are fundamental to achieving the targets of the European Green Deal and the transition to a sustainable food system. The health of European soils is rapidly degrading. An ambitious Soil Health Law is urgently needed.
To support this, the Soil Health Law Coalition and signatories are offering to share their expertise and provide more detailed political, economic, technological, and legal analysis as needed.
➡️ Do you want to level up your startup like Seqana and benefit from the unique ecosystem of innovation hub RootCamp? Sign up for our newsletter and follow us on LinkedIn to not miss the next application deadline for batch #5.