Since 2018, Lower Saxony has been supporting the establishment of startup centers and is now funding ten such centers with 2.31 million euros from 2023 to 2025. The eligible total costs are covered 50 percent by the state. We are thrilled to announce that RootCamp is among the selected startup centers to receive funding. We are very pleased and excited about this opportunity, which will enable us to further expand our acceleration program and support even more startups in Lower Saxony and beyond.
RootCamp the ecosystem for AgTech & Bioeconomy innovations
RootCamp is an Innovation Hub to fuel corporate innovation by startup inspiration. This is done by catalyzing pilot projects of industry and startups that turn into viable corporate corporations. Innovation Hubs like RootCamp play a crucial role in fostering innovation, creativity, and economic growth. By providing startups with intense coaching, access to investor and industry networks as well as professional mentors, we support entrepreneurs to scale their businesses. The grant of the NBank is not only a recognition of our efforts, but also a testament to the importance that Lower Saxony places on fostering innovation and entrepreneurship. It is a significant step towards advancing innovation in the region.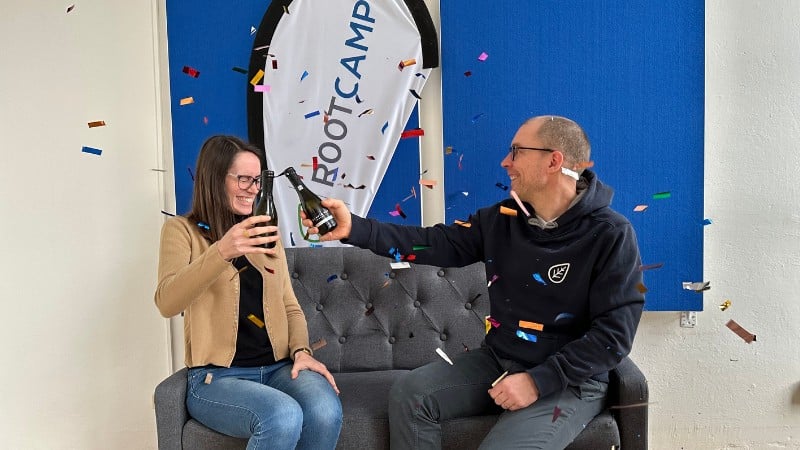 Good news must be celebrated!

Gaia Amatteis COO & Head of Program states: "We are delighted to have the opportunity to further strengthen the startup ecosystem in AgTech and Bioeconomy in Lower Saxony. This funding will enable us to attract even more startups and support two batches per year. We are committed to creating a thriving and dynamic startup community that fosters innovation and collaboration."
Dr. Philipp Rittershaus, Head of Corporate Innovation & Startup Coaching adds: "We established RootCamp as a valuable part of the startup ecosystem in Lower Saxony and showed that we are able to foster the local ecosystem by bringing international innovations to the region. The grant enables us to further support startups from the Bioeconomy segment. It is crucial for us to ensure the sustainable development of the post-fossile economy. We are proud to be selected and look forward to disrupting the agri value chain with our partners and startups."
What's next at RootCamp?
After a record number of more than 450 applications, we have already selected the new startups for batch#4. The accelerator program will start at the end of April with 7 startups. Sign up for our newsletter and follow us on LinkedIn to receive regular updates on our programs and activities.