In 2020, fueled by a passion for both agriculture and environmental conservation, Felix and Lara founded Artenglück. What started as a project to highlight farmers' dedication to sustainability quickly evolved into a thriving startup. Discover more about their journey and innovative approach in our interview with the Artenglück team.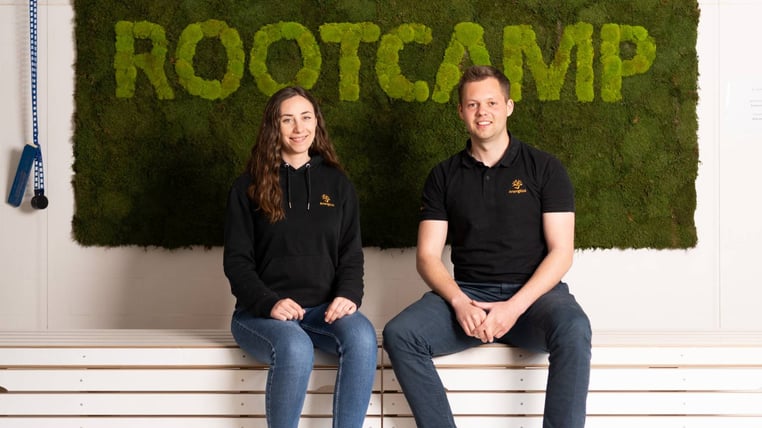 From farmers to founders. How did your startup journey begin?
Three years ago, we founded Artenglück (German word for "happy species"). At that time, Felix was a Master's student in Agribusiness and a farm manager, while Lara led her own online marketing agency. Initially, our goal was to handle public relations for agriculture and showcase the dedication of farmers to conservation efforts. To accomplish this, we relied on the support of private individuals and companies who financed our initial nature conservation projects, such as the creation of flowering meadows.
As we delved deeper into our work, we realized the challenges faced by our clients in the areas of Corporate Social Responsibility (CSR), Environmental, Social, and Governance (ESG), as well as sustainability reporting. Consequently, we began providing support to our clients in these areas, helping them communicate their commitment to sustainability and incorporate it into their reporting practices.
What do you appreciate about the startup ecosystem in Lower Saxony?
We particularly appreciate the community here. The exchange with other startups and companies is very important to us, and here for example at RootCamp we have great opportunities for exchange and can learn a lot from the corporate partners, mentors and alumni.
What positive impact does nature conservation, especially by companies have?
In addition to our flowering meadows, which primarily promote biodiversity, we carry out other nature conservation measures, such as forest afforestation and field bird windows. Overall, our aim is to promote biodiversity and species diversity in different ecosystems. The need for forest afforestation is now easy for many people to understand. In recent years, due to climate change, an incredible number of hectares of forest have died, which many people notice when they visit the forest. Not only is less carbon being sequestered from the air due to forest dieback, but above all, there is a lack of habitats for our native biodiversity. However, we also want to promote other ecosystems, especially in the agricultural landscape, and therefore also carry out nature conservation measures away from the forest, such as flowering meadows and field bird windows, which remain in place for several years and thus create habitats in the long term.
Cooperations with companies create win-win situations for nature and for the companies. The companies can use their commitment for their sustainability report and their employer branding, among other things, while supporting nature in a transparent way. Our promise is that our nature conservation projects are a maximum of 30 km away from the desired location and can be visited at any time.
On the market, there are some providers who offer nature conservation projects for companies and private individuals. How do you stand out?
True to our motto: Do good and talk about it, we not only carry out the conservation projects for our clients in their region, but also support them quite actively in communicating about their sustainability commitment. This turns the cooperation into an investment that can be seen in increased sales, employer branding, image building and strong sustainability communication.
RootCamp Demo Day 2023
Join RootCamp and meet the Artenglück Team on August 30th at the Demo Day in Hanover. After the 12-week program, the startups from our network will be showcasing their projects. The Demo Day will be a unique opportunity for you to get a taste of the international startup scene, network with promising startups, investors and the AgTech community. Register now.