Berlin-based startup Cultimate Foods sees the future in hybrid meat substitutes. The founders are developing a breakthrough ingredient based on cell-grown fatty tissue that will be used to create hybrid meat products. The startup raised 700 thousand euros in funding last year led by Big Idea Ventures, ProVeg International and Realum.cloud and launched its own laboratory in Göttingen (Germany). In this interview, founder Eugenia Sagué delves into the concept of hybrid meat and its benefits for agriculture.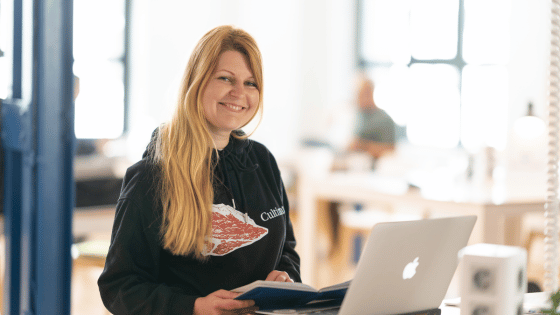 Describe for our readers your hybrid approach towards cultured fat.
Culminate Foods is a biotech company that utilizes state-of-the-art cell culture technologies to produce animal cell-cultivated fat without the use of animals. Our cell-cultivated fat will be sold as a B2B ingredient to manufacturers of alternative meat, enhancing the taste and juiciness of their products. Fat is the primary determinant of a food's flavor, taste, nutrition, and even texture. Its quantity correlates with consumer preference and product quality. By incorporating our ingredient, alternative meat producers can elevate their creations in terms of taste, flavor, and mouthfeel. Additionally, our cell-cultured fat is a versatile technology that can be applied across various food types.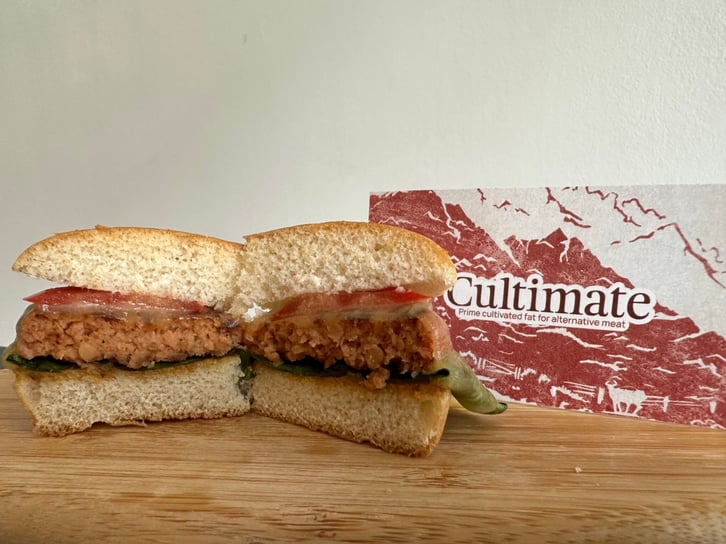 Culminate creates a game-changing cultivated fat technology to provide alternative meats with authentic taste and texture.

We firmly believe that by contributing to the improvement of alternative meat products, we can reduce the reliance on animals and mitigate climate change. Since the science required for fully cultivated meat as an accessible product is still years away, the initial impactful products will be "hybrids," combining plant-based proteins with cultivated ingredients. A cultivated fat product like ours will enhance the popularity of plant-based items by bridging the taste gap and laying the foundation for the future of cultivated meat.
What are the key benefits of cultivated meat compared to traditional animal farming in terms of animal welfare, public health, and global food security?
Cultivated meat production requires fewer resources than traditional livestock farming, including land, water, and feed. As a result, it holds the potential to mitigate its negative impacts by generating lower greenhouse gas emissions, thereby addressing climate change. By directly producing meat from cells, cultured meat also has the capacity to significantly reduce animal suffering. Production occurs within controlled environments, which could minimize the risks of contamination and foodborne diseases.
How do you plan to navigate regulatory hurdles and gain consumer acceptance for your products?
Consumer acceptance (or willingness to try) of cell-cultivated products has been increasing worldwide in recent years, even though it will only be fully assessed once the first cell-cultivated products enter the market. Furthermore, many consumers of plant-based products are one-time consumers primarily due to taste preferences. Culminate's cell-cultivated fat aims to replace plant-based fats and oils, revolutionizing the plant-based market with hybrid products to achieve broader consumer acceptance.
For instance, in collaboration with other relevant companies and research groups, we are participating in European projects studying consumer acceptance of cultured meat. Moreover, we consider it our responsibility to actively communicate the benefits of cellular agriculture in terms of sustainability and animal welfare.
Concerning novel food regulations, we maintain close contact with the most relevant players and entities, such as Singapore and the US, and have initiated the necessary processes. In the EU, we closely monitor recent developments and aspire to participate in defining the necessary steps not only for our company but for the subsequent companies in the field.
As the cultivated meat market continues to expand with the emergence of companies in Europe and beyond, how does your startup, Cultimate, differentiate itself?
Cultimate's in-vitro technology precisely replicates the lipid profile of intramuscular fat, which manifests as delicate marbling within the muscle tissue of premium-quality meat. The quantity of intramuscular fat is directly linked to the product's quality, exerting a significant influence on its flavor, tenderness, and juiciness. High-quality marbled meat not only offers an exceptional dining experience but also boasts elevated levels of beneficial fatty acids, such as polyunsaturated and monounsaturated fats.
What are the next steps for your startup?
We are eager to finalize our investment round, secure additional research grants, and expand our scientific team. These strategic steps will allow us to expedite the development of our product and increase the distribution of samples to our customers.
Meet Culminate Foods at RootCamp Demo Day
If you're as intrigued as we are by the transformative potential of Culminate Foods, mark your calendars for August 30th. The RootCamp Demo Day in Hannover offers a unique opportunity to meet the minds behind this cutting-edge startup. Save your spot and register here.