With a steadfast purpose to combat the pressing challenge of marine ingredient scarcity, Aquanzo has embarked on a transformative mission to reimagine the cultivation and utilization of marine zooplankton. Last month, the Scotland-based startup, which aims to farm Artemia in land-based systems for the aquafeed market, secured a €1.4 million funding boost to enhance their production capabilities. Artemia, commonly known as brine shrimp, are crucial for providing essential nutrition in aquaculture.
The startup believes the solution to supporting aquaculture is to farm artemia In this interview, we unravel the layers of Aquanzo's pioneering methodology, delving into their tech-infused solutions.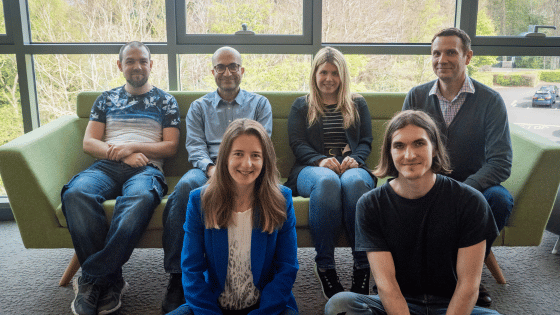 The startup was founded in 2022 and consists of an interdisciplinary team. Photo: Aquanzo
Describe the problem you are addressing with Aquanzo.
Aquanzo was founded with the goal of tackling the pressing issue of marine ingredient scarcity, particularly in relation to fishmeal used in animal feed production. We recognized that the traditional reliance on marine sources for these ingredients is unsustainable due to overfishing and environmental concerns. This scarcity of marine ingredients poses a significant challenge to the animal agriculture industry, which heavily depends on these resources for optimal animal nutrition.
Our innovative solution involves the development of cutting-edge technologies to cultivate marine zooplankton in a controlled, land-based environment at a large scale. By harnessing the power of agricultural byproducts, we're able to create a closed-loop system that not only addresses the scarcity issue but also contributes to the efficient utilization of existing resources. This approach aligns perfectly with the principles of sustainability and environmental stewardship, as it minimizes the strain on marine ecosystems while maximizing the potential for nutrient recycling.
How does Aquanzo's land-based zooplankton farming work, and what techniques ensure high production and environmental sustainability?
By developing a tailored farming system to grow small marine zooplankton (artemia is less than 1 cm long) at high density, we can transform agricultural byproducts, such as ricebran, into high-value animal marine ingredients with unique taste and smell enabling modern aquaculture diets to use high incorporation of cheaper but less attractive ingredients to perform better. These byproducts, which would otherwise go to waste, are transformed into high-value marine ingredients through our tailored farming system. Our mission is to domesticate and farm artemia as a feed, at low environmental footprint, for optimal fish and shrimp nutrition and help make the aquaculture industry more sustainable.
What are some challenges you have faced in developing and scaling up the farming of zooplankton?
One of the primary hurdles has been the intricate task of honing the product-market fit to ensure optimal alignment with the most critical needs of our target customers. This involves deeply understanding the core "jobs-to-be-done" within the aquafeed industry and tailoring our offering to address these pivotal pain points effectively. As we strive to meet the growing demand for sustainable marine ingredients, we must fine-tune our production system to ensure consistent, high-quality yields. Achieving this balance while maintaining environmental sustainability requires innovative engineering, precise control over cultivation conditions, and the integration of advanced automation technologies.
How does Aquanzo engage with stakeholders within the aquaculture industry?
Aquanzo actively engages with stakeholders across the entire aquaculture industry and the environmental conservation community, fostering collaborative efforts to promote sustainable practices and responsible marine protein farming. We are in contact with stakeholders at all levels of the value chain, from agricultural byproduct producers to aquafeed companies, fish farmers, fish processors and retailers. The feedback is very encouraging, and the appeal to conserving (or improving) marine ingredients' uniqueness for animal nutrition while reducing the environmental impact is attracting interest from most downstream groups.
We have set up a laboratory at Heriot Watt University in Edinburgh with a recirculating aquaculture system that can produce Artemia biomass that is dried, ground into powder and used for in vivo testing on fish and chickens.
Why did you apply for the RootCamp startup program?
We applied for the RootCamp startup program because it stands out as a lead accelerator in the EU AgriTech landscape. Recognizing the significance of aligning with top-tier programs, we sought to integrate RootCamp to elevate Aquanzo's growth trajectory with a high-quality and impactful platform. You can get to know us and our technology at the RootCamp Demo Day. We are happy to engage in an exchange with the AgTech community in Hanover.
As we eagerly anticipate their participation in the upcoming RootCamp Demo Day (register here) on August 30th, the broader AgTech community can look forward to engaging with Aquanzo's vision and learning from their journey toward a more sustainable aquaculture future.