Less than a year after opening up, we celebrated the end of the acceleration program with the first Demo Day on March 11th. Over 100 international attendees from the agrifood industry joined the virtual event to hear about our program, see the startups pitch and get more insights on innovation for soil health.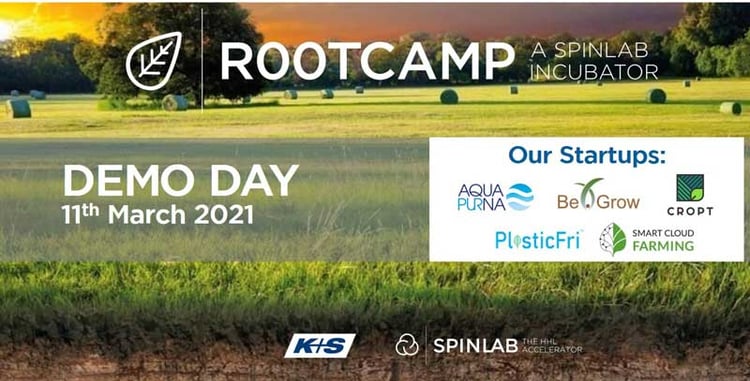 EVENT HIGHLIGHTS
RootCamps first program in a nutshell
"There are more than 7000 acceleration programs worldwide but only 1% of them are in agrifoodtech. RootCamp exists to fill the gap", explained Gaia Amatteis, Program Manager of RootCamp.
As agriculture faces more and more challenges, the mission of RootCamp is to disrupt the agrifood value chain bringing corporations and startups together to develop customized solutions to solve real problems. The collaboration and fast implementation of solutions is what Christina Mittelbach, Head of Corporate Development and Innovation at K+S, mentioned as the key success factor for the long-term strategy of K+S. The global player in fertilizer and salt production founded RootCamp together with SpinLab, the accelerator from Leipzig.
The RootCamp program for early stage startups is a 12-weeks intense program, which includes e-learning units on all business areas from financial modelling to sales and marketing, workshops and mentoring by internal and external experts as well as weekly coaching. We are talking about 30 workshops, more than 90 e-learning units and 100 hours of individual coaching to keep our startups busy.
The Demo Day represented the end of the program in which startups pitched their ideas in front of a broad audience of investors, corporate partners, other startups, journalists and agritech enthusiasts.
Demo Days juicy part: the pitches
The five startups that joined the first batch represent only 3% of all applicants. After our five startups went through in-depth pitch training during the last weeks, they now presented their products to the crowd.



David Gebhard and Florian Gösling from Aquapurna

who successfully raised their pre-seed round and started a collaboration with K+S presented their technology to produce sustainable premium shrimp that are produced in Europe and sold at wholesale price. Their first production building will be located in the K+S Innopark close to Hannover.





Maik Schacht from

Be-Grow

located in Neustadt an der Weinstrasse explained how his newly developed hydrogel helps plants grow in spite of drought. The company started as a buyout from BASF. Besides that his startup is also involved in humanitarian projects together with the UN.





Sitting in Novi Sad/Serbia,

Cropt

developed a technology that combines machine learning with artificial intelligence to make recommendations for the amount and type of fertilizer farmers should use. This way Oscar Marko and his co-founder Sanja Bdar are putting their PhDs in data science to use.





The fourth startup is

PlasticFri

which was founded by the brothers Max and Allen Mohammadi from Stockholm/Sweden. They developed a material which acts similar to plastic foil but is environment-friendly. Before founding PlasticFri they successfully developed an AI technology for the early diagnosis of Heart Disease which also landed them their Forbes 30 under 30 titles.





The biotechnologist from Italy Michele Bandecchi and the engineer Suvrajit Saha from India founded

SmartCloudFarming

located in Berlin and use remote sensing technology to create 3D soil maps which help to sustain soil health.
All pitches were accompanied by positive feedback, interested questions and resounding virtual applause from the audience.
Future trends and challenges
As soil health is one of the most pressing challenges in agriculture, it was also the topic of the following panel discussion. Alexandra Morrow from Astanor Venture, Andreas Gransee from K+S and Daniel Bärtschi, expert in regenerative agriculture joined Philipp Rittershaus, Managing Director of RootCamp, for a "Reality check of startup innovation for soil health".
This topic is especially important because "soil health is the only future of farming and the canvas that we live on", as Alexandra pointed out. This has always been the case but the perception changed: "For a long time we valued yield based on quantity, now nutrition matters more." While this global and complex industry bears a lot of opportunities for innovation it also poses challenges. According to Daniel, startups need to understand the reality of the farmer: "They are tired of experts. Instead they need coaches, who understand them and take them on a journey." Andreas added that experts are still important, they just need to be connected to other stakeholders and industries: "The problem of the past was that agricultural experts talk to agricultural experts. And they find solutions - which is fine but it's not enough today. The specialists need to talk to other actors and industries like data science or fintech about where we can make a difference. So it's important to organize this exchange of ideas at places like RootCamp."
What's next?
The event was rounded off by the opportunity to meet the startups in their own virtual rooms. This way interested listeners and potential partners or investors had the opportunity to get in direct contact with the founders. In conclusion the Demo Day was a milestone for RootCamp and the startups. Gaia: "Today is the celebration of the startup's achievements. This is not the end but just the beginning". In fact, all 5 startups passed to the second phase of the program, in which they will work on specific pilot projects together with K+S experts.
The objective is to implement and boost innovation in a way that both startups and K+S can profit in the short-term.