Sanja Brdar and Oskar Marko from Novi Sad/Serbia are ringing in the next agricultural revolution. Their startup CROPT offers AI solutions for the agriculture of the future which means they use high tech to accelerate the development of the sector with big data, AI, machine learning and similar concepts.
While shaping future developments Oskar looks back at history to explain how this modern technology came into place. Agriculture was shaped by developments like "the Industrial Revolution in the 19th and early 20th century where new tools were developed. During the Green Revolution of the 1960s and 1970s new fertilizers and pesticides were introduced. All of this was done to increase yield."
Now there is again a pressing need to increase yield: "We need to increase the agricultural production by 70% until the year 2050 and the only technology that can help us today is IT." This is where CROPT comes into place. Their technology analyses data to make precise recommendations on the kind and amount of fertilizer a farmer needs. This way yield goes up and costs go down.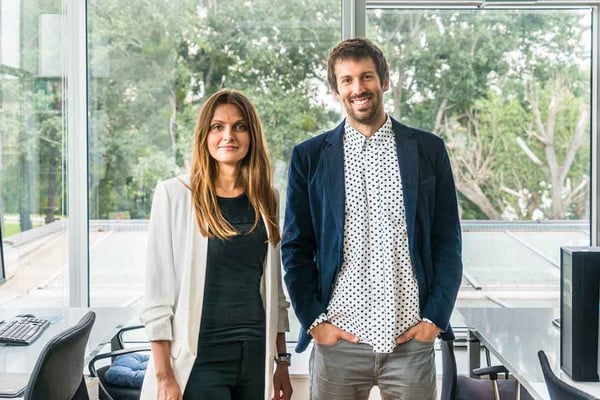 From left to right: Sanja Brdar and Oskar Marko. Photo: CROPT

Challenges of ai in agriculture
But there are also some challenges. "You need to wait a whole year to get just one data point for the yield" which is a lot of time compared to the car industry for example where "you can get terabytes of data within a few hours." Also not every farmer has a smartphone which is needed for most of their services. This is also part of a trend Oskar is observing: "A lot of AgTech solutions were intended for rich countries in the global west and now I think that the focus is shifting to emerging markets such as India and African countries where huge improvements are possible."
To make their technology more accessible the founders are simplifying their solutions as much as possible. As Sanja explains "for the seed recommendation it's enough to have the GPS location and some information on the historical yield." Oskar also states that most farmers are willing to adapt to new technologies if they see the benefit.
From Academia to Entrepreneurship
What helps the founders in finding the right solutions are their PhDs in Data Science. "What's good about academia is that it's always on the forefront of innovation. But in order to bring this innovation to the actual farmers you need to have companies." So they completed their team with economy experts and plant scientists. According to Oskar this unique qualification and diversity of their team is what sets them apart from competitors.
Right now they are fueling their business with the participation in the first RootCamp program. For Sanja it's beneficial to "meet the other teams and get into contact with them." Compared to other programs the founders already took part in, RootCamp's batch is smaller so the interaction between the startups is closer "which is very positive." Oskar highlights the interaction with K+S: "We found out more about how a really large company functions, especially concerning the digital revolution and that kind of insight is really precious."
Founding and fueling their business to put the theory into practice is also a part of doing something for the good cause. As Oskar put it: "I may sound like Miss Universe but I really think that working in the agrifood sector allows us to do something good for the people and the environment, and that is something we are truly proud of".