EuroTier/EnergyDecentral is the leading livestock and energy fair organized by DLG (German Agricultural Society/Deutsche Landwirtschafts-Gesellschaft) every two years in Hanover. Over 1,800 exhibitors from 57 countries were present and around 106,000 visitors from 141 countries come by. An impressive performance for the first EuroTier after 4 years break due to a COVID-19!
RootCamp joined forces with DLG to boost startups in the livestock industry. Innovations in livestock are essential for a successful future. High greenhouse gas emissions, pressure on other natural resources such as water, land and biodiversity as well as the increasing demand for improved animal welfare are only a handful of problems that need to be addressed by innovations. The cooperation with EuroTier was a logical continuation of our EU-funded BLIVE - Boosting Innovations for Livestock Farming in Europe project, where we deep-dived into topics like precision livestock farming and animal welfare.
During the EuroTier, RootCamp took over the main part of the innovation station. In three days we put 20 startups from 9 countries in the spotlight during a pitch session on the innovation stage followed by lunch and networking.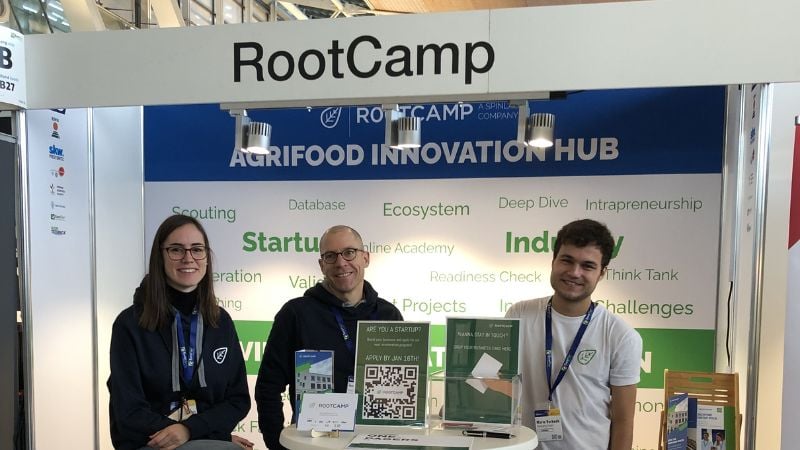 Of course as agrifood innovation hub we could not miss EuroTier, and we had our own booth. (Photo: RootCamp)
RootCamp's Lunchtime Startup Pitch
The Lunchtime Startup Pitch was our 3-day format to present relevant startups active in the livestock and energy industry and give them the possibility to network with interested partners over a delicious lunch. 20 startups from 9 different countries pitched their solutions - check out the startups below 👇
Day 1: Farm Management Solutions in Europe & Africa
The first day was all about farm management solutions with two special guests from Africa. The agricultural industry is not comparable between Africa and Europe. Especially, the concentration of the market and the technologies used are completely different. While Europe has, depending on the region, a concentrated market with larger farms, small-holder farmers are the majority of the African market. Additionally, the on-farm technology used in developed countries is more advanced compared to those in developing countries. That's why Vetsark and evet, both addressing the African market, specialized in small-scale farmers by using smartphones as the main hardware device.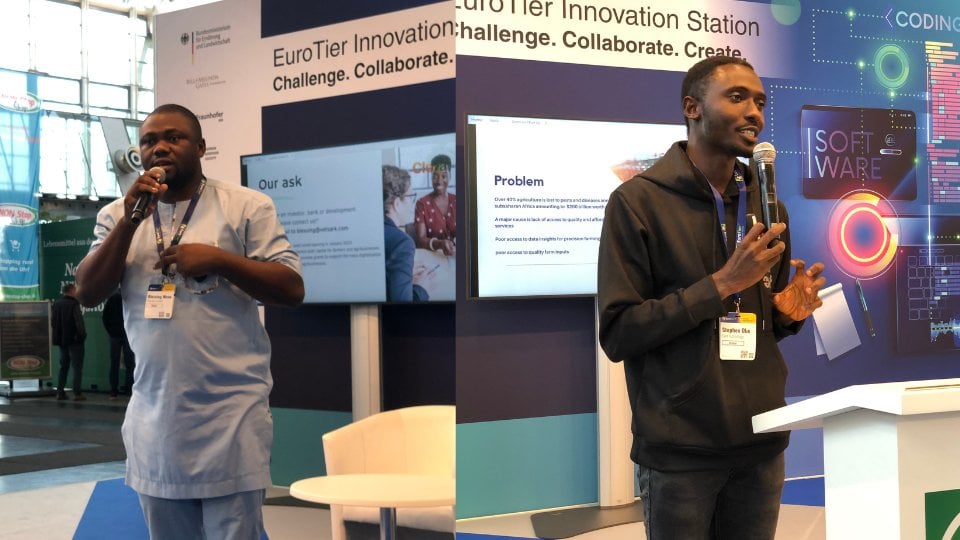 From left to right: Blessing Mene (Vetsark), Stephen Obe (evet) (Photo: RootCamp)
The following startups pitched on the first day:
Day 2: Sustainability in AgTech
The second day was dedicated to startups directly addressing environmental issues in different sub-sectors of the livestock and energy industries. An enormous transformation is already underway in the energy sector, but to meet European goals of climate neutrality in 2050, the transition must be accelerated. For an economy based (almost) exclusively on renewables, energy must be stored. The solution developed by Reverion is a way to increase the flexibility of the power grid. It is a reversible all-in-one system. Depending on the availability of electricity, the system either produces electricity and feeds it into the power grid or converts the excess electricity into methane or hydrogen as energy storage. We are happy that our colleagues from SpinLab -The HHL Accelerator are supporting Reverion in their 14th class.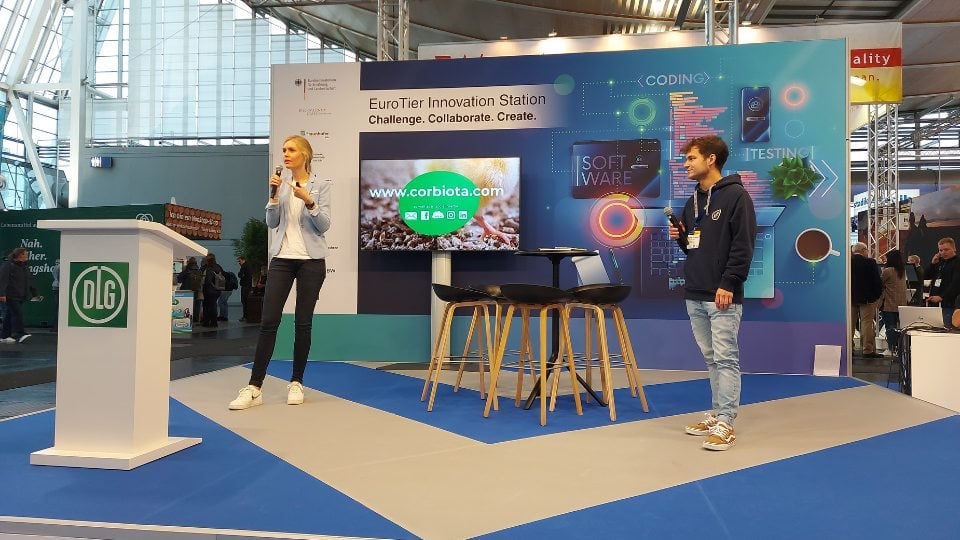 Alexander Schneider (Corbiota) & Mario Verbeek (RootCamp) (Photo: RootCamp)
Startups pitched on the second day were:
Day 3: Precision Livestock Farming and Animal Welfare
During the last day, eight startups showcased their solutions in the precision livestock farming and animal welfare segment. To improve animal welfare, an accurate monitoring system is needed. As for data collection type, it can be divided into camera-based and sensor-based monitoring systems. Among the sensors, there is a wide variety. From intra-vaginal cow sensors to smart ear tags, to air quality measurements, you can find different solutions developed by newly founded startups. Artificial intelligence analyzes the collected data and can provide important recommendations about the animals. Together with suggested actions, farmers can improve animal welfare and production efficiency, also in terms of sustainability. All startups (except CowMotion) offer a monitoring system. Here are the startups of the last day: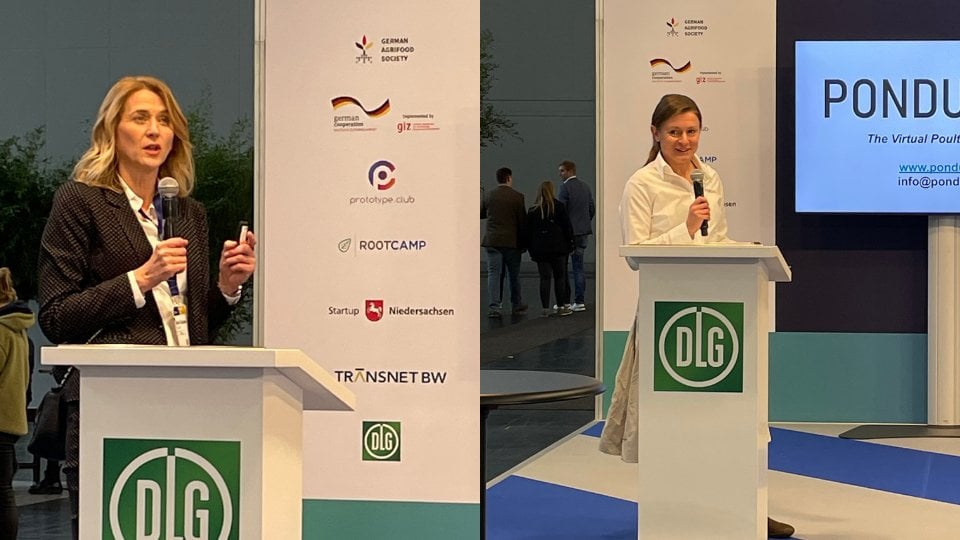 Senka Gajinov (poultryNET/dunavNET), Claire Lewis (PONDUS) (Photo: RootCamp)
Fruitful collaboration to push innovation
Many challenges lie ahead for the industry but it is only through innovation and collaboration that we can overcome them. Startups are needed to bring fresh ideas in a relatively conservative environment. At RootCamp we are happy to support those startups and provide them with visibility and coaching.
Luckily we are not the only one, as you can see in the picture below! We were glad to network and share the stage with other innovation-driven organizations such as prototype.club, German AgriFood Society, startup.niedersachsen, GIZ to give innovations and startups the stage they deserve!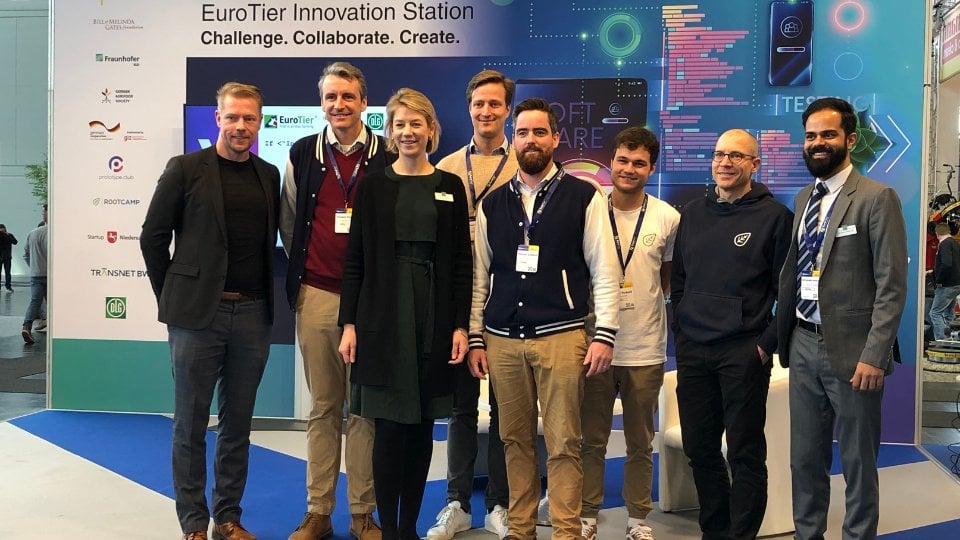 From left to right: Wolf Goertz (Netrocks), Clemens Pompeÿ (prototype.club), Freya von Czettritz (DLG), Caspar Olenhusen (GIZ, RootCamp), Christian Schweiter (prototype.club), Mario Verbeek (RootCamp), Philipp Rittershaus (RootCamp), Christopher Armstrong (DLG) (Photo: RootCamp)
What's next? Application for Our Accelerator Program is now open!
The EuroTier experience was a blast, and we are looking forward to AgriTechnica in 2023, in Hanover too. In the meantime, our next acceleration batch is coming up.
If you are an agtech startup, apply now by the 16th of January and scale your startup with us!
The program lasts from mid of April until the end of August 2023 and supports you with a tailor-made program. All startups active in the broad agrifood value chain are warmly invited to apply and join the RootCamp ecosystem!