You came across our startup program and wonder how your startup will benefit from participating? We often receive questions from later stage startups asking whether they fit into the program and what added value the participation has. In this article, we present to you 9 powerful arguments why established startups should definitely apply for our program. Let's go!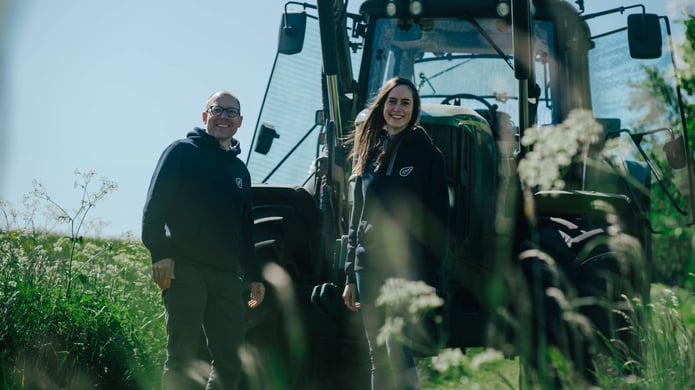 Dr. Philipp Rittershaus (Managing Director, RootCamp)
and Gaia Amatteis (Program Manager, RootCamp)

1. Access to paid pilot projects
"RootCamp bridges the gap between the industrial environment and the disruptive impulses of the startup world." - RootCamp Managing Director, Philipp Ritterhaus
RootCamp's goal is to drive innovation and test it in the real world. In fact, during the program, we implement your solution within the industrial environment through pilot projects between startups and corporations. With a structured process, RootCamp catalyzes collaborations by providing the expertise, experience, and conditions for these projects to happen.
Collaboration between corporations and startups is not easy and can take a lot of time. What makes us so special is that we speed up the process and connect startups with the decision-makers of corporations. Each project is supported by a project manager from RootCamp and has a dedicated mentor from the corporate partner. The pilot project outcomes include product co-development, commercial partnership, licensing agreements, an extension of the customer base, and additional investments. Especially our funding partner, K+S is keen on collaborating with startups on pilot projects.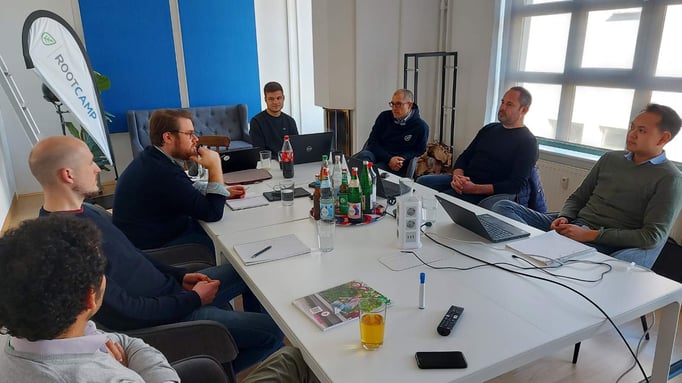 RootCamp's mission to bridge the gap between the corporates and startups.

2. Get up to 50K € free funding
Many accelerator programs demand money or shares. Startups that are accepted into our program do not pay for anything. It is completely free of charge for you! In fact, each accepted team receives up to €50.000 to run their project. With the funding, you can focus on the realization of the pilot project and for example finance equipment or external services. The pilot projects run from 3–12 months and the start can be determined individually with our corporate partners. Read more about the pilot projects here.
3. specialized in the area of AgTech
RootCamp is an innovation hub with a primary focus on the AgriFood-Tech value chain. We support later stage startups who want to accelerate and have a positive impact in the AgriFood-Tech sector with disruptive solutions. An integral part of RootCamp is the regular deep dives on emerging agricultural topics. This year for example we collected best practices, as part of the BLIVE project, to boost innovation and start building a pan-European network in the livestock sector. We also regularly organize webinars e.g. about the circular economy or carbon farming with various agricultural experts, where innovative technologies from startups are spotlighted. Moreover, all our coaches and mentors are related to agtech and can help you specifically with your unique business case.
4. International Network and reach
In the last two years RootCamp acquired a total of 700+ applications for the program and supported 19 startups from 13 countries like South Africa, Columbia, and Turkey. One of the things that really sets this program apart from the competition is the size and diversity of our network. We provide you access to our international network with top venture capitalists, business angels, and worldwide known corporate partners like a worldwide player in the fertilizer and salt field, K+S, one of the world's largest seed producers, KWS, and Germany's largest producer of ammonia and urea, SKW Stickstoffwerke Piesteritz. Our partners operate worldwide and have locations in Brazil, Russia, Chile, Singapore, Uganda, and many more. This means that pilot projects can be realized beyond Europe. Moreover, we have an extensive network of experienced startup coaches, mentors and industry experts. Being backed by one of the best-ranked accelerators, the SpinLab, you can expect a unique ecosystem that is constantly growing.
5. Get your market entry in Germany
Germany is, worldwide, a significant economy of successful international corporations and small and medium-sized enterprises. Public and private organizations and a demand for investment opportunities have made Germany an approvingly attractive market for all types of business and strengthened its position in the startup scene. With RootCamp, startups get beneficial introductions to German corporate customers, universities, politics, investors and initiatives. We also help clarify legal and tax issues if foreign startups begin to perform in Germany, or assist international companies to implement in implementing within the European market.
Lower Saxony, where RootCamp is based, is one of the most important locations for agriculture in Europe. Farming and agriculture is flourishing and growing in the most varied sectors. Leading trade fairs for the international agricultural industry, such as Agritechnica and EuroTier (check reason 7), are held regularly in Hanover. They underline the outstanding importance of Lower Saxony as a location for the agricultural and food industry and offer the startups first-class opportunities to present their products and services to an international audience of experts.
6. showcase your startups at our demo day
During our Demo Days, we bring startups with investors, business angels, corporates, and leading agricultural experts in various formats such as pitches, keynotes, or panel discussions together. Get valuable contacts and intros is fundamental for the growth of a startup.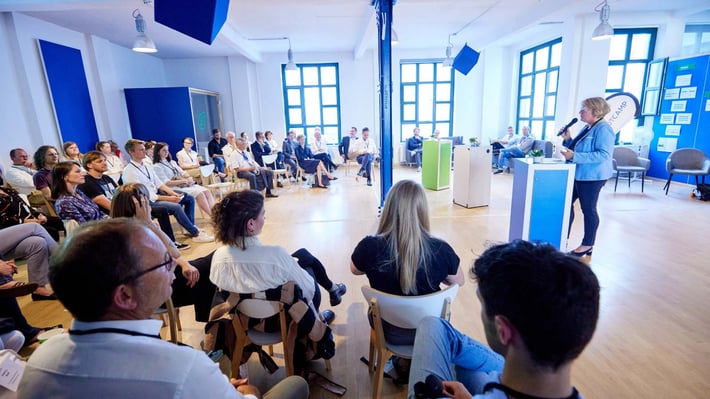 Big events and pitches take place at the RootCamp headquarters,
where you get to know interesting people from our ecosystem.
7. present your solution at top agtech startup events
AgriTechnica and EuroTier are major industry trade fairs that bring farmers and global players from all over the world to Hanover. More than hundreds of thousands of visitors come every year to experience the latest innovations. Through our partnerships with the two largest agricultural events, we can offer our founders a stage with a wide reach. At EuroTier 2022 our startups had the awesome chance to pitch their business idea on the innovation stage. In 2023, we will be attending AgriTechnica - one of the world's leading international trade fairs for agricultural machinery and equipment. You don't want to miss this opportunity!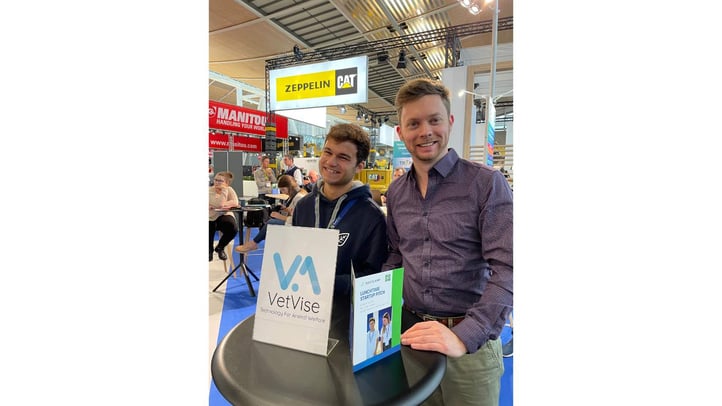 Mario Verbeek (Innovation Manager, RootCamp) and Norman Caspari
(Founder, VetVise) participant of Batch#3 at the innovation stage at EuroTier.

8. Hybrid Program designed to your needs
Our program was designed with the busy lives of innovators in mind. A change of location is not necessary as we offer a hybrid program. Hanover is a wonderful city, and we are happy to offer you our fully equipped office space for free. The duration time is flexible and on top, you get access to our e-learning platform with more than 100 videos and articles. In this way, comprehensive knowledge transfer is made available to you, no matter where you are.
9. Rootcamp's Team is Experienced
Get comprehensive support from the international and interdisciplinary RootCamp team. Your startup benefits from the extensive expertise of our team members. For instance, managing director Philipp Ritterhaus has gained extensive experience as a life science investor at High-Tech-Gründerfonds and has a background in industrial biotechnology. Our startup Coach Caspar has more than ten years first-hand experience from the corporate (KWS, John Deere), startup, and venture capital world. His passion spans the entire agri-food technology value chain. You will learn from the best.
Take the plunge and join the rootcamp ecosystem
So what are you waiting for? Check out our application website for more details about our accelerator program and the application deadline.