In this interview, we delve into the innovative world of RootCamp climate tech startup Poás Bioenergy. Poás Bioenergy has developed groundbreaking technology that converts agricultural waste into valuable resources, including biochar and syngas. With a mission to reshape the perception of waste and drive the transition away from fossil fuels, Poás Bioenergy is paving the way for a circular economy in the AgTech and Bioeconomy sectors.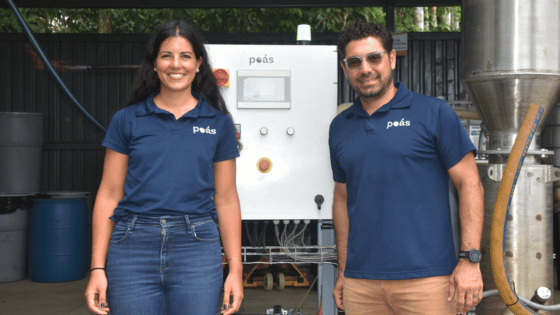 Sofía Camarero and Jose Alfaro, the founders of Poás Bioenergy, introduce their groundbreaking technology that transforms agricultural waste into biochar and syngas. Photo: Poás Bioenergy
Please explain how Poás Bioenergy's gasification technology converts agricultural waste into biochar and synthesis gas?
Biomass gasification is a process in which organic materials are transformed into a gas mixture called syngas or synthesis gas through a series of chemical reactions. Poás Bioenergy's reactor provides the high-temperature and oxygen-limited environment required for these reactions to occur, allowing the biomass to decompose and release gasses, including carbon monoxide, hydrogen, and methane. Our gasification technology optimizes not only for energy production but also for biochar production. The biochar is accumulated in a chamber as the syngas is continuously produced. We utilize our technology to upcycle abundant and problematic organic materials, such as agricultural wastes from crops like coffee and pineapple. To ensure proper processing, our system includes a biomass pretreatment unit to extract water from these wastes before they enter the gasification reactor.
How does the production of biochar and synthesis gas contribute to the regeneration of soils and the sequestration of carbon?
This is mainly achieved by our focus on optimizing biochar production. The use of biochar dates back thousands of years and has a rich history across different cultures. More recently, interest in biochar has grown due to its potential as a tool for carbon sequestration and regenerative agriculture. Biochar is a highly stable form of carbon that offers multiple environmental benefits.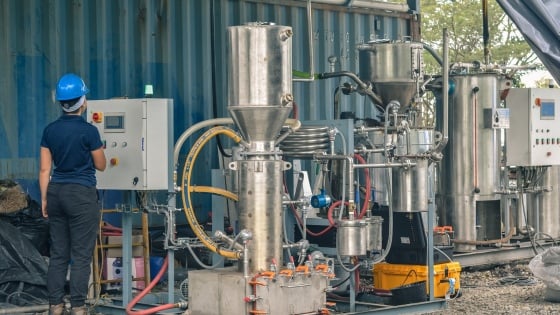 Prototype of Poás Bioenergy gasification technology. Photo: Poás Bioenergy
By adding biochar to the soil, carbon dioxide that was absorbed by the biomass is removed from the atmosphere and stored in the soil, contributing to the mitigation of climate change. There is robust evidence and a high scientific consensus that biochar can effectively store carbon away from the atmosphere for centuries. Additionally, when incorporated into agricultural soils, biochar improves water retention, nutrient availability, and soil structure. It acts as a sponge, absorbing water and nutrients that can then be slowly released to plants, thereby reducing the need for irrigation and fertilizer application.
In our case, as we utilize agricultural wastes and divert these materials from field burning or anaerobic decomposition, biochar production helps to avoid methane emissions, pests, and other environmental hazards.
What potential applications do you see for the syngas produced by your technology?
With our technology, we aim to reshape the perception of waste and leverage it to create a circular economy while transitioning away from fossil fuels. Syngas is a prime example of this, as it can effectively replace fuels such as natural gas and liquefied petroleum gas in various thermal applications and internal combustion engines. In Costa Rica, most agribusinesses rely on fossil fuels for their operations. This presents a significant opportunity for us, as it is challenging to decarbonize dryers, boilers, and kilns, and electrification of this machinery is currently not a viable option due to high electricity costs and the associated capital expenditures. Moreover, syngas can be utilized in the production of specialty chemicals, and we intend to explore these applications in the future.
Do you have any new projects or developments in the pipeline that you can share with us?
We are thrilled to announce that we have signed two letters of intent to initiate our first pilot operations in Costa Rica, focusing on the coffee and pineapple sectors. Our first pilot project will be in collaboration with Good Liquorworks, an independent company specializing in climate-positive spirits derived from overlooked agricultural byproducts and innovative ingredients. Together, we will establish an operation to process 6000 tons per year of coffee fruit pulp waste. The extracted sugar-rich water will be supplied to Good Liquorworks for the production of bioethanol, while the remaining dry solids will be used to produce biochar to meet the thermal demand of Good Liquorworks' distillery.
Our second pilot project will be implemented as part of a UNDP GEF-financed initiative aimed at eliminating persistent organic pollutants emitted during current field burning practices in pineapple cultivation. In this project, we will process pineapple waste from Nicoverde, a local pineapple producer and partner. Nicoverde aims to purchase biochar and thermal energy for their own consumption.
What are the advantages for corporates in partnering and collaborating with startups like Poás Bioenergy?
The startup ecosystem is at the forefront of innovation and can bring fresh ideas, technologies, and approaches to the table. Moreover, startups often possess unique insights and have access to markets that large corporations have yet to penetrate. Additionally, startups tend to be more agile in navigating these markets. In our case, we offer market intelligence and an established network in the pineapple and coffee sectors in Costa Rica. We strongly believe that by collaborating with startups, companies can unlock synergies and effectively develop new products, services, or business models that benefit both parties and generate overall value.
Why did you apply for the RootCamp Accelerator program?
We strongly resonated with RootCamp's goal of disrupting the agricultural value chain and recognized the tremendous benefits of participating in their accelerator program, which focuses on AgTech and Bioeconomy innovation – our specific sector. As a startup based in the United States with operations in Latin America, we saw the opportunity to expand our network in Europe through RootCamp, connecting us with experts, investors, and corporate partners in a region that is highly relevant to us. Europe leads the way in bioeconomy initiatives and represents a significant market for both coffee and pineapple. European stakeholders, therefore, play a crucial role in the value chains in which we operate.

➡️ RootCamp is delighted to support Poás Bioenergy's mission and invites all AgTech and Bioeconomy startups with to apply for the next batch of the RootCamp acceleration program. Don't miss this opportunity to join a network of experts, investors, and corporate partners while accelerating your impact. Applications are open until August 1st.