Get to know Caspar Olenhusen! He is one of RootCamp's startup coaches, with a passion for agriculture since his childhood. During his career in different countries like the USA and the UK, he collected a wide amount of knowledge and know-how to coach startups in the agribusiness and agtech scene.
Please introduce yourself.
My name is Caspar. I live in Hamburg, but I was born and raised near Göttingen on a farm. I studied Agricultural Management in Germany and got my international MBA in Food & Agribusiness in the USA and UK. Furthermore, I worked for the seed company KWS, John Deere, the food startup Lizza and the Venture Capital Fund Oyster Bay. Since November 21, I have been responsible for the GIZ Livestock Tech-Startup Accelerator in Africa, co-financed by the Bill & Melinda Gates Foundation.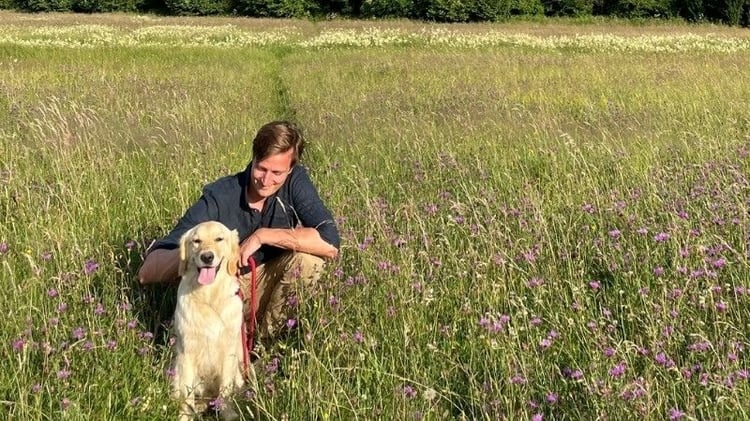 RootCamp startup coach Caspar Olenhusen with his dog. (Photo: Caspar Olenhusen)
Describe us your role as a Startup Coach at RootCamp.
Every week, I have a session with the founders to discuss strategic matters and guide them through the RootCamp program. The company strategy, the founders' urgent questions, and the pitch deck in preparation for customer or investor presentations are often in the center. I would count my work as a success if I could ask the right questions and develop a trustworthy relationship with the founders.
Why did you choose to work for RootCamp?
I love to get in touch with exceptional founders in the agrifood-tech sector, and RootCamp does precisely that. It is a position where I can leverage my experience in the best way, and I can learn something every day.
When was the first time you got excited and interested in agrifood-tech and sustainability?

As a kid, you would either find me eating or near a tractor. Growing up on the farm, my first interactions with my grandfather on the farm sparked my interest. Food and Agriculture have become more interconnected than ever before. I believe that nature and technology can teach and help us solve any challenge. So the need for more sustainability feels natural and inevitable, too.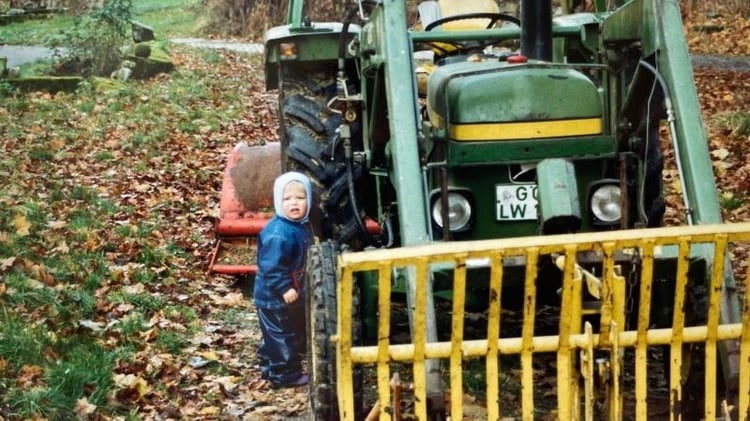 From an early age, Caspar was fascinated by agriculture. (Photo: Caspar Olenhusen)
Do you remember the first day at RootCamp? What was it like, and what were your first thoughts?

It was in October 2021, and the COVID pandemic was still very present. I liked the atmosphere, and the meeting with Philipp and Gaia underlined that we can achieve great things here and that our work is essential for the ecosystem.
In retrospect, what was your favorite project?
The teams and work are too different from picking a favorite- I can tell you some highlights and key takeaways instead. The most rewardful to see is each team's progress in strategy, customer growth or pitching over this short period. Further, I was astonished at how fast we could develop trust to tackle tough questions and challenges.
Share some personal facts about you.

I just had my civil wedding, and I am thrilled about the time ahead as a husband. I have 24 first cousins. My friends and family accepted my sometimes annoying hyper-excitement about agrifood-tech topics. I like craftsmanship, building stuff with my hands, and spending the most time in nature. And dogs, I love dogs.
What is something you're planning on doing in the next year that you've never done?
Together with my wife, we plan to move to Africa for some years. Further, we are looking for a little farm outside of Hamburg.

What is the best advice you have ever received?
It was more like a role play with my former boss I got into. It showed me the power and need for more empathy and the importance of being able to put oneself in someone's position.
About Innovation Hub RootCamp



RootCamp is a multipartner innovation-hub for technology-oriented startups and intrapreneurs from the agri-food tech and bioeconomy sector. RootCamp is part of the SpinLab group based in Leipzig and was initiated by K+S AG. It maintains a vibrant ecosystem and can count as partners on KWS, SKW, hannoverimpuls as well as Agritechnica.
We offer different startup programs which run up to twelve months and startups are supported by a grant of up to 50K EUR per team. A fundamental part of the programs is the collaboration between startups and corporate partners to develop new ideas and implement suitable solutions, in the form of pilot projects. The "Acceleration Program" addresses young startups and provides assistance as well as a network of mentors, industry experts and investors. Established startups are taking advantage of the "Fast Track" to rapidly enter collaboration projects with our partners.