For Batch#3 we got 250 applications from 58 countries worldwide! We are extremely grateful for your interest in our program and the choice was definitely not easy for us.
Together with our partners, we have selected seven promising startups. The business ideas are driven by innovative technologies with a major impact on the agricultural industry. In the coming months our mentors, corporate partners and industry experts will work with the startups on many different topics as part of our acceleration program.
Let's have a look on RootCamp Batch#3 👇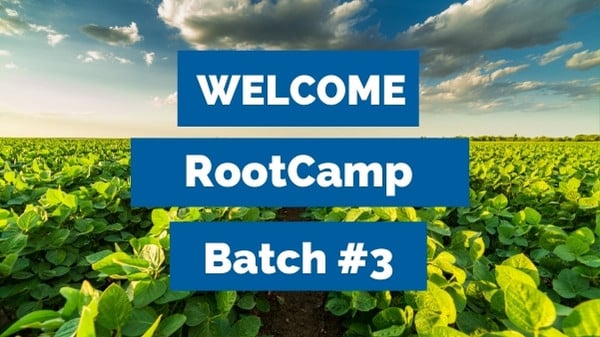 AgriCircle makes sustainable food production measurable and delivers application maps for resource efficient fertilization via API. Together with farmers and food processors they fight for more soil vitality, biodiversity and a more efficient and sustainable use of resources in agriculture. The startup from Switzerland provides automated and outcome based measures for regenerative agriculture. Their solutions deliver highly accurate and economically viable measures to quantify sustainability and to improve productivity in one go.

The biotech startup comes from Colombia. Bialtec SAS designs and produces microencapsulated precision microbiomes capable of reconfiguring the intestinal microbiome into a more efficient and healthy one. With an office in the Netherlands, will seek to position itself in Europe.
They are developing a next-generation biorefinery technology platform for advanced prebiotic ingredients and microbial Omega-3 fatty acids while enhancing food security by upcycling agri-residues into animal feed. Their prebiotic is the ultimate gut microbiota enhancing ingredient that improves the health, immunity and boosts the performance of animals. The algal omega-3 lipids are a sustainable replacement to fish oil, essential to avoid depleting marine resources. They come from Latvia.
Based in Berlin the startups mission is reversing climate change through regenerative agriculture. Climate Farmers enables an effective carbon market for agriculture through the development of soil carbon monitoring systems to enable farmers to transition to regenerative practices. The technology at the core of Climate Farmers allows for remote, continuous and low-cost monitoring. Satellite data is processed based on scientific algorithmic models and machine learning, enabling continuously higher quality results with growing data sets and lower costs. This builds trust in the reliability of agricultural soil as carbon sinks and allows to funnel a larger margin of profit to farmers directly.

We are the promoters of conscious, sustainable and animal welfare-oriented livestock farming with our patented IoT solution for environmental impact monitoring in animal farms: the Cynomys Livestock System. Cynomys srl are the sole company to provide full, comprehensive monitoring of environmental parameters and energy and water consumption in animal housing with a single, self-contained IOT device. The devices are specifically conceived for long time measurements and all their features are designed and built for that very purpose.

Seqana is a Berlin-based startup that enables global climate action through satellite-powered insights & monitoring solutions for Soil Organic Carbon. They enable a hands-off approach to MRV (monitor reporting verification), cutting expenses from $5-$10/hectare to $0.05-$1/hectare, and expediting the pathway to credible SOC stocks anywhere on earth. The technology is powered by Earth Observation (public and private) which offers a 10x reduction in cost as compared to current established services. Beyond the MRV bottleneck, their solution can be applied to reduce the time and effort needed to scout new projects by offering a large-scale analysis of state or countrywide SOC levels to help direct new project resources most efficiently.
VetVise from beautiful Hanover improves animal welfare and farm efficiency in pig and poultry production by 24/7 video monitoring and real-time Machine-Learning analyzing. They care for the animal from birth to slaughter. AI analysis and linking with other data, such as slaughter data, optimises the entire value chain by giving actionable feedback. They combine usually independent domains in order to achieve more through diversity: Science with Commercialisation, Veterinary/Agricultural Science with Cutting-edge Machine Learning and Theoretical Physics. Using low-cost, off-the-shelf low tech hardware as a basis for high tech algorithms to perform real-time animal behaviour tracking on edge computing to automate and objectify the stable management of the future.

About RootCamp

RootCamp is a multi-partner innovation-hub for technology-oriented startups and intrapreneurs from the agri-food tech and bioeconomy sector. RootCamp is part of the SpinLab Family based in Leipzig and was initiated by K+S AG. It maintains a vibrant ecosystem and can count as partners on KWS, SKW, hannoverimpuls as well as Agritechnica.
We offer different startup programs which run up to twelve months and startups are supported by a grant of up to 50K EUR per team. A fundamental part of the programs is the collaboration between startups and corporate partners to develop new ideas and implement suitable solutions, in the form of pilot projects. The "Acceleration Program" addresses young startups and provides assistance as well as a network of mentors, industry experts and investors. Established startups are taking advantage of the "Fast Track" to rapidly enter collaboration projects with our partners.
The deadline to apply for batch #4 ends on 23rd August!