At RootCamps we catalyze the cooperation of industry and international early stage as well as established startups. To support that, we also aim to build a supportive network and ecosystem.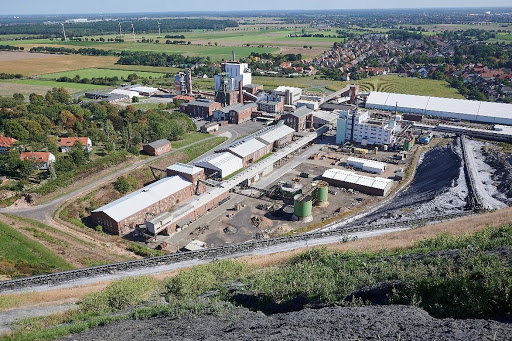 The Innopark Sigmundshall is located on the former Sigmundshall mine site. Photo: K+S

One crucial part of it is the Innopark Sigmundshall about 30 km west of Hannover. Innopark Sigmundshall is using the facilities of the former K+S Group's mine. At this site, mining was discontinued at the end of 2018 after more than 120 years. Under the motto "Using the past for innovations of tomorrow", an innovation park is currently being created there, the Innopark Sigmundshall. Innovative companies from the fields of food and agriculture, but also from traditional trade, can settle there. One of the first tenants is our batch#1 portfolio Aquapurna that already established an R&D facility for on land aquaculture – perfect match since handling and treating salt water has a long tradition at the site.
In contrast to the usual industrial parks, the Innopark offers several advantages. On the one hand, the wide space: there are open spaces of over 50,000 m², 300 m² of office space, covered commercial areas for storage and production in the order of over 7500 m², and a rail connection. On the other hand, the Innopark offers extensive services such as engineering, or craftsman services, provision of energy, laboratory and analytical services, which allow innovative companies to focus on their core business.
---
This environment is designed to meet the needs of companies in all phases of development: test areas and prototyping for young companies but also production and expansion areas for scale-ups or small and medium-sized enterprises.
---
Do you mind the sunlight or too curious neighbors? Under earth, where mining took place for 12 decades, you can find a unique underground culture environment. Limited and secured access, year-round 26℃, higher CO2 level and still access to all infrastructure and workshop areas. Here, field trials to establish cultivation of plants are being carried out with different light qualities.
The team led by Holger Seifart is responsible for the realization of the Sigmundshall Innopark. He has been with K+S AG for 17 years and was responsible for the logistics of the K+S Group for many years. Seifart now deals with the after-use of former mines and has been responsible for the realization of the Innopark Sigmundshall concept since the beginning of 2021. He is supported by his colleague Juliane Ritter. She is a working student at K+S. She is studying economics at the University of Kassel and has a bachelor's degree in ecotrophology. Jörg Willecke, who has already been working for K+S for 11 years, advises on questions of approval and planning law. The team is additionally supported by many colleagues in Sigmundshall on site and from the company headquarters in Kassel.
WHAT ARE YOU WAITING FOR?

Have we caught your interest or do you know of an innovative company for which the Sigmundshall Innopark would be suitable? Are you active in the field of agriculture and food and would like to learn more about the Innopark? Then find out more on the website.
Contact Holger Seifart at:
E-mail: holger.seifart@k-plus-s.com
Phone: +49 561 9301-2250