The fact that one farmer can now feed about 130 people is the result of constant innovation within the last centuries. Just within the last 40 years the techniques of modern biotechnology were added. But how will AgBiotechnology shape the development of the agricultural sector in the future? Can AgBiotechnology help us to feed all the people on earth and at the same time enable an environmentally friendly way of working? Do we have to expect to reach the borders of the laws of physics?
These are questions that we will probably only be able to answer in retrospect many years from now, but one thing is already certain: AgBiotechnology offers many possibilities and startups have a great potential to build a disruptive business and contribute to a more sustainable agriculture.
Biotechnology in general means "any technological application that uses biological systems, living organisms, or derivatives thereof, to make or modify products or processes for specific use".
For us at RootCamp, AgBiotechnology encompasses more specifically biological and chemical techniques used on-farm including inputs for crops and animal agriculture in general, genetics, microbiomes and breeding.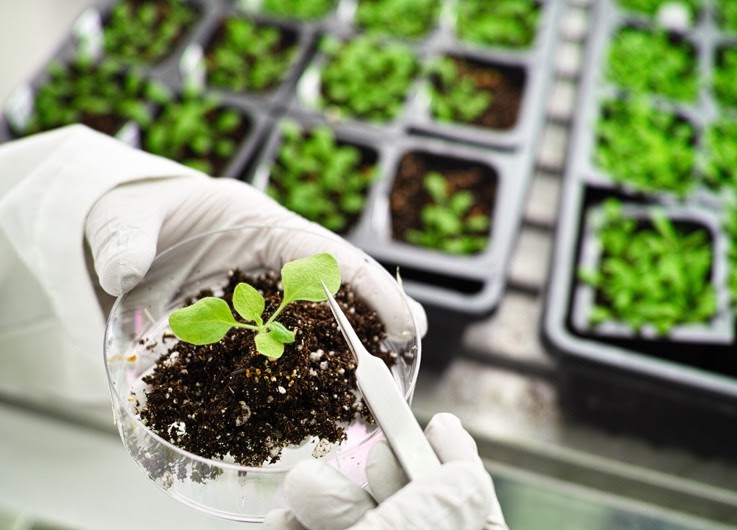 Photo: SINITAR/Shutterstock.com
Facts about

AgBiotechnology Investments

in 2020
Financing rounds in this area also show the growing interest in AgBiotechnology. In 2020, a total of $26 B was awarded to startups in the AgriFoodTech space, of which 6% ($1.6 B) was invested in AgBiotechnology. Companies with top deals such as PlantResponse Biotech ($77 M deal), which offers biological plant fortifiers, or Benson Hill ($150 M deal), which has developed a platform with plant biology, big data analytics, and cloud computing services, were able to convince investors in 2020. Microorganisms are another topic that interested investors in 2020. The company Pivot Bio could also raise a top deal with $430 M and thus continue to work on replacing synthetic nitrogen.
Why is AgBiotechnology important and how can technologies like that improve crop production?
Farmers have been working on the appearance of plants and animals for as long as farming has been practiced. Farmers have continued to work with only the best individuals through domestication and selection over many decades and many cycles. This is how today's plants and animals have evolved from natural variation. Even today, the goal of modern breeding is the same as that of the first farmers: to develop the best plants and animals.
But the challenges have changed compared to earlier B.C. and later, today not only yield is important. There are a number of challenges in agriculture:
Climate change; without action, average temperature is expected to rise 5° Celsius by 2100

Ending hunger and all forms of malnutrition

Competition for natural resources

Making food systems more efficient, inclusive and resilient and reduce food losses

Emerging pests and diseases and increasing herbicide, fungicide and insecticide resistance

Minimize the negative impacts of agriculture on the environment
All these challenges and more can probably be solved with the help of agrobiotechnology. Since there are several effects that lead to superior genetic plant and animal material, breeders will have to improve several traits in the future. A better resistance to disease and insects is needed as well as increased tolerance to drought and flooding. Overall, agriculture needs tougher crops that are less vulnerable to environmental stresses. To solve the ending resources problem and a more sustainable production, agriculture has to reduce use of fertilizers, pesticides and other agrochemicals. Not only quality needs to be improved, aslo quantity related to higher nutritional value of food, for example fewer allergens in food or less saturated fat in cooking oils need to be optimized.
Let's have a look at all of the AgBiotechnology categories in detail below and see which companies are offering solutions and driving innovation in the industry.
1. Inputs for crops
In addition to a moderate climate, good soil quality, modern technology and the extensive knowledge gained through research and science, inputs for crops are also an important reason for today's productivity and high yields on farms. Inputs for crops are those needed to produce food, which can be fertilizers, crop protection products or seeds.
An important milestone in the development of today's plant nutrition is the realization by Justus von Liebig around 1840 that fertilization in line with requirements is the key to higher yields. Today, K+S, as one of the world's largest manufacturers of fertilizers, is an important company that contributes, among other things, to supplying farmers with the fertilizers their agricultural crops need.
Plant diseases have also plagued all forms of cultivation for centuries, and infestation by fungi and insects has led to competition for nutrients, light and water. Tiny fungi such as Phytophthora infestans (late blight) thus destroyed the potato crop of many relevant growing regions in the 19th century. After a lot of research and results, Julius Kühn 1825-1940 discovered the causes for the occurrence of various plant diseases and is since then considered the founder of modern phytopathology in Germany. Farm inputs such as chemical pesticides and seed dressings have since helped to increase yields and avoid crop failures as a result of the basic research that preceded them.
In the future, new challenges such as climate change or the regulation of chemical agents will change the requirements for inputs and there will be an increased demand for organic products. Already today, many startups are working on sustainable alternative products, so-called biologicals. Biologicals are fertilizers and crop protection products made from living or naturally occurring materials.
Bind-X is an example of a startup from this area. Instead of using a substance that kills weeds, Bind-X's product prevents the growth of unwanted plants by creating a physical, semi-permeable layer in the soil.
2. Inputs for animal agriculture
Inputs such as feed or health-promoting substances are also needed in animal agriculture, and new solutions are being developed by startups. As with crops, this category includes a wide range of technologies. Examples of such advances include more efficient production of animal vaccines through microbial fermentation.
In particular, products that make livestock farming more sustainable and less harmful to the climate are being developed by startups like Mootral. With Mootral Ruminant, the startup offers a biological feed additive that massively reduces greenhouse gas emissions from cattle.
3. Genetics
The basis for all our life is our DNA - something that every living being has. Everything that makes us human, animals and also plants is stored here in tiny molecules. It influences the outer appearance of every living being as well as the inner features. It is therefore not surprising that genetics plays a central role and that research is carried out here using modern technology, for example to breed plants for the future challenges of agriculture, such as climate change. But breeding plants takes time and does not happen overnight. Various approaches such as marker technology or double haploid technology can shorten the time until a new variety is on the market, but it still takes up to 15 years until the seed is finally sold.
Startups with innovative ideas can also make an important contribution here. Like the startup Goenomics. Goenomics translates genome sequences into information. Their innovative technology enables cheaper and faster information representation and thus faster breeding of new plants.
4. Microbiome
Sometimes the smallest things can have big impacts. Microorganisms are crucial to the survival of our soils and plants. More and more research is being done in this direction, because microorganisms are not just microorganisms. Only in recent years has it become clear how much they influence the structure and quality of our soils and will therefore change the way we work in crop production in the future. Did you know that there are more microorganisms living in a teaspoon than there are people on earth?
Startups are also active here and bring innovation to the industry. This involves identifying microorganisms and, more recently, isolating relevant microorganisms with the most benefits and creating new products from such relevant microorganisms.
Aphea.Bio is one such startup that develops products based on an analysis of microorganisms that help to sustainably reduce fertilizer use in corn and wheat (biostimulants) and to control fungal diseases (biocontrol agents).
Biome Makers also work intensively with microorganisms in the soil. The startup's goal is to restore soil health and ensure farmland productivity by harnessing the full potential of microorganisms. Their soil analysis method, BeCrop, measures the biological quality of the soil and provides agronomic insights that can be used to improve operations and processes on the farm.
5. Breeding
Breeding of plants began early with the cultivation of the first plants ever, by selecting the best plants. In today's modern plant breeding, further techniques and methods have been developed and selection and crossing have become much more targeted. Relevant tools in AgBiotechnology are conventional plant breeding, tissue culture and micropropagation, molecular breeding or marker assisted selection, genetic engineering and GM crops and molecular diagnostic tools.
One important company in the field of plant breeding is KWS. KWS joined the RootCamp ecosystem in June 2021 (press release here). KWS, founded in 1856, is a global company with approximately 5,700 employees in more than 70 countries. KWS' breeding activities focus in particular on crops such as sugar beet, corn and oil plants, cereals and vegetables. As a company that operates in the field of AgBiotechnology, innovation for greater sustainability is also a central theme here in order to breed plants for future challenges such as resistance, yield stability, nutrient efficiency and stress tolerance.
As Christopher Fender says, "Global challenges are also emerging at KWS, so this is a good time to work on new business models and new technologies in agriculture. We need to drive innovation very quickly in order to be efficient and offer solutions for farmers. Startups are great here in particular, because they think differently and understand how to create new technologies that, with KWS strengths, create a win-win-win situation for startup, company and farmer".
RootCamp's webinar "Agricultural Biotechnology: scaling innovation in AgBiotech and Seed Applications"
At the end of July we had a webinar with selected experts and startups called "Agricultural Biotechnology: scaling innovation in AgBiotech and Seed Applications" hosted in collaboration with our partners KWS and DLG.
During the webinar our speakers agreed: AgBiotechnology is a broad topic with many challenges, but also a lot of potential for disruption.
We need innovation in AgBiotechnology to protect our resources. To minimize chemical applications while also not negatively impacting or possibly increasing the nutrient and energy content of crops. To protect our crops from diseases and pests. Above all goals, the goal of stabilizing yields or increasing yields remains to ensure food supplies. Especially areas such as precision agriculture, biologicals, microorganisms, automation, new breeding methods, synthetic biology and transparency for consumers therefore offer enormous potential for startups to disrupt in the future in combination with AgBiotechnology.
If you missed the webinar with Christopher Fender (KWS), Martin Spitznagel (Bind-X), Martin Kollmar (Goenomics), Alberto Acedo Becares (Biome Makers) and moderated by Dr. Philipp Rittershaus (RootCamp's Managing Director), watch the recording here. Check out the previous sections above to have more information about these companies.
Let's talk!
What do you think about the potentials and challenges in AgBiotechnology? Drop a comment here and follow us on LinkedIn!