Modern agriculture is in the process of a technological revolution. Influenced by the growing global demand of sustainable produced food, followed by the increasing costs and shortage of labour, and the regulatory pressure for the reduction of the use of agrochemicals, robotic technology is redefining quickly agricultural production.
An agricultural robot is defined as any robotic device that can improve agricultural processes, by taking over many of the farmer's duties that are slow or labour intensive. Using robots in agriculture makes many tasks simpler, faster, and more effective. Driverless tractors, drones for crop monitoring and data collection, autonomous precision seedings, automated irrigation and harvesting systems, as well as milking dairy herds are some of the commonly used agricultural robots used for farming, crop, and soil management, and livestock production.
According to a research report "Agricultural Robots Market - Global Forecast to 2026" published by MarketsandMarkets, the global agricultural robots market size is expected to grow from USD 4.9 billion in 2021 to USD 11.9 billion by 2026, being the Asia-Pacific and North America market the ones with the highest agricultural robot market growth rate in the global market.
But how robotics is changing agriculture? What are the main obstacles and potential for using robots in agriculture? These questions were discussed and answered by Stefan Meldau (Business Development Manager at KWS Group), Martha Wenzel (Co-founder at E-TERRY), Nils Solum Helset (Co-Founder and CEO of DigiFarm & 15th Generation Farmer), and Florian Richter (Founder & CEO at Muddy Machines) during the webinar on "Agricultural robots: How robotics is changing agriculture" organized on 18 January 2022 by RootCamp (moderated by Dr. Philipp Rittershaus) and hosted on DLG e.V. - German Agricultural Society platform.
The challenges and potential solutions
Seeking to address the challenge of labour shortage, the work intensity and extreme weather conditions affecting agricultural activities, robotics development for weed control and harvesting were the focus of the discussion during the webinar. In order to tackle these problems, KWS (under the project "Future Live – Robotic weeding in the field") showcased some examples of collaboration with different partners and start-ups for testing of robots for weed control in sugar beet under real environmental conditions. These trails look at identifying of potentials and obstacles in the application of precision solutions for weed control and at exchanging knowledge for innovation.
On the other hand, E-Terry (Germany) has developed a robotic carrier system suited to individual agricultural applications by collecting and monitoring data at field level and automating specific tasks such as weed and pest control. It consists of one-handling system with exchangeable tools, which can be adjusted manually in width and height, allowing its use in various crops and growth stages as well as in different plots widths.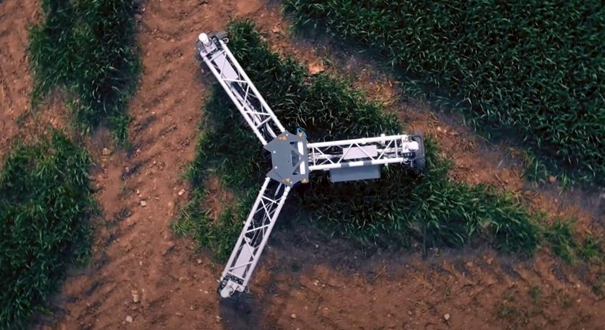 Robotic carrier system by E-Terry. (Photo: E-Terry)
"We are convinced that is a huge potential for robotics to mitigate the problems affecting vegetable production conditions by getting to know better the crops and the growing environment through monitoring and data collection and automating specific tasks in the farming processes", said " Martha Wenzel.
Likewise, a recently founded company Muddy Machines is developing a battery powered light weight platform that can work autonomously in the field. The first prototype is a harvesting machine for selectively harvested vegetable such as asparagus and broccoli. The developments of this technology will also include additional features to enable farmers to make decisions based on real-time information such as yield forecast and maps, and to perform data analysis.
"If we don´t help horticulture with automating or solving the labour supply, we will have a significant reduction on locally grown fresh vegetables", explained Florian Richter.
DigiFarm is a technology for automatically detecting the highest accuracy field boundaries and seeded acres using high resolution satellite data, which is fundamental layer for any digital agriculture such as the robotics application in agricultural fields.
Current needs for scaling up the development and adoption of robots in agriculture
During the discussion, the speakers agreed that for a wider adoption of robotic technologies in agriculture, specially for crops grown on open field, there is a need of:
Platforms that can integrate different solutions. Currently many start-ups are working on developing their own technologies to solve specific problems. However, by integrating them in one platform accessible to the end user could lead to a faster adoption of the solutions.
Collaboration among the different stakeholders (including larger manufacturers) in terms of knowledge exchange and standardization of processes. This could facilitate the integration of different components (hardware or software) for the development and improvement of existing and new technologies.
"Companies like KWS with a global outreach to all kind of farmers can play an important role in supporting start-ups in providing access to farmers and knowledge about location specific differences that can help to optimize the machines to get quickly to the markets", commented Stefan Meldau.
Robotic solutions that understand the variability of the fields and can adjust to get the desired output, and that do not exceed the cost of any concurrent system. These solutions must be reliable, valuable, and user-friendly.
Proper training for the end users to understand better how robots work. When customers understand the technologies, they are more likely to use them and spread the word.
Improved and reliable global supply chain that allows companies to develop and commercialize their technology in a shorter time.
Updated standards and harmonized regulations, which define precise outlines for agricultural robots, adapted to the specific requirement of the new applications and technologies.
Breeding of new varieties suited to be weeded and/or harvested with robotic systems.
Agricultural Robotics – Final Check
Different types of agricultural robots are improving farming processes and solving specific problems that will benefit the farmer (e.g., saving time, labour, money, and products). Many scientists, engineers and start-ups around the world are continuing to work improve existing technologies and to develop new and innovative robots for even more agricultural applications. As a conclusion, there are exciting times ahead in agricultural robotics and this could potentially change the way our food is produced, processed, and marketed.
Do you also think that robotic is disrupting agriculture? Drop a comment here and follow us on LinkedIn! All Agritechnica webinars have been recorded and can be watched on our YouTube channel.