Agriculture technology is an innovative field that combines cutting-edge technology to create sustainable and efficient solutions. With the growth of agtech startups, there are now numerous events that showcase the latest developments in the industry. To help you to navigate the vast amount of startup events, we have compiled 10 startup events with focus on agriculture for 2023 that you don't want to miss!
Digital Farming Conference
May 4th, Berlin
With a focus on digital transformation in agriculture, the conference will provide valuable insights into the latest trends on livestock transformation, data exchange, future food and more. Attending the Digital farming conference will give startups the opportunity to learn from industry experts, and establish partnerships. Join this conference to gain a competitive edge and position your startup for success in the exciting world of agtech.
F&A NEXT
24th-25th May, Netherlands
F&A Next is about thought leadership and connecting promising startups and scale-ups, to dedicated food & agtech investors and innovative corporates. It includes two days of networking, and debating the dynamics in food and agriculture. Moreover, agrifood startups can apply to take the stage at the event and present themselves to the entire audience as 'Next Heroes in Food & AgTech'. A great chance since the audience consist of an international and influential group of key stakeholders in the industry, including many investors, corporates and media.
Food Tech Congress
May 31st – June 1st, Warsaw
More than 1000 investors, government leaders, innovators and entrepreneurs from around the globe are coming together in Warsaw to spotlight technologies and partnerships to build healthier and more sustainable food systems From food as medicine to alternative proteins, food waste and AgTech 5.0, the two-day event will draw you in and drive you forward. From the program, we can tell that it will definitely not be a boring conference. The event will be jam-packed with entertainment, live music, city tours, and innovative food.
Future Food Tech Alternative Proteins
27th - 28th June, New York
Focusing on plant-based, cell-based, and microbial fermentation, the Future Food-Tech Alternative Proteins summit brings together Consumer packaged goods leaders, entrepreneurs, investors, ingredient developers, retailers and food service providers to create unified approaches to scaling the next generation of novel proteins
RootCamp'S Innovation Hub Demo Day
30th August, HanNover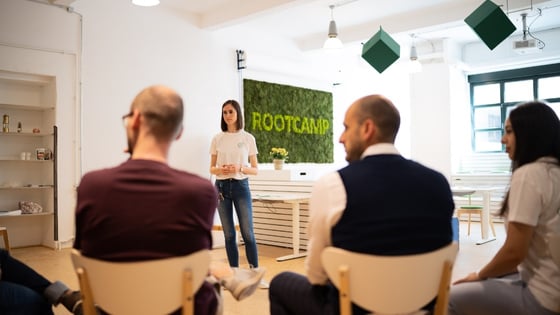 Every year, agricultural experts and startups come together at the Demo Day for an intensive exchange.
During our Demo Day, we bring startups with investors, business angels, corporates, and leading agricultural experts in various formats together. Join RootCamp's Demo Day in August to witness innovation and network with fellow industry professionals. Expect to see startups showcasing their products, engage in networking opportunities with entrepreneurs, investors, and experts, and participate in insightful discussions and presentations on current industry trends. Enjoy a fun and collaborative atmosphere for learning and connecting.
More details coming soon!
IMPACT FESTIVAL
13th - 14th September, Frankfurt / Offenbach
The IMPACT FESTIVAL is Europe's largest B2B event and platform for sustainable innovation. More than 200 exhibitors, 100 speakers and 50 master classes await you at this year's edition. The purpose of the festival is to discuss and accelerate the green transformation by connecting thought leaders of sustainability, corporates, innovators and investors with each other. Discover exceptional tech solutions, experience leading change makers on stage, and be prepared for keynotes by various high-profile speakers from politics and business.
World Agri-Tech Innovation Summit
26th - 27th September, London
The World Agri-Tech Innovation Summit has become the annual meeting place for the global AgTech industry and brings together leading agribusinesses, entrepreneurs, investors, and policymakers to accelerate the transition to sustainable and resilient agri-food systems. Check in with partners, kickstart new connections, and secure face to face time with new prospects during side-meetings and dedicated networking experiences. Participation is also possible virtually.
AGRITECHNICA
12th - 18th November, HanNover
As an AgTech founder, you can't miss the world's largest agricultural technology trade fair. After a break of almost 3 years due to the Corona pandemic, AGRITECHNICA will finally take place again this year. More than 400,000 visitors are expected from all over the world. As a startup, you have the chance of a big stage to present your ideas to the international agricultural industry. Take advantage of the AGRITECHNICA networks and inspire the visitors for the agriculture of tomorrow. We are pleased to be part of the event as a partner and to present innovations from our Innovation Hub. Follow us on LinkedIn to not miss any of our activities!
innovate!
23rd November, Osnabrück
The convention organized by seedhouse accelerator offers an interactive program for startups and innovations from food and agriculture. Alongside various networking formats and hands -on, founders can apply for the innovate! Awards, which are awarded in the following categories: "German Agri Startup" and "German Food Startup". The application phase will start in summer 2023, and you will have the great chance to present your business idea to a large audience on stage.
SLUSH
30th November - 1st December, Helsinki
A few weeks after Agritechnica, RootCamp is heading off to Finland. For the first time, we will experience one of the world's most famous startup events. SLUSH attracts over 20,000 attendees and is putting the global startup ecosystem under one roof. Additionally, around 400 media representatives are expected, giving you the chance to connect with journalists and create visibility for your startup. With hundreds of side events such as investor's hours, mentoring chambers, founder days festival taking place across the city during Slush Week, the fun flows out of the trade fair hall and onto the streets.